To get a Meshnet Node up and running at your home, a couple of things need to be done.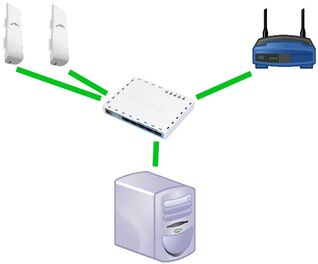 First, email dan.node@irish2me.com & have him add you to the Node Map.
Next, review Standard Node Components & acquire as many of the listed pieces of hardware as possible.
Proceed to set up the Computer as advised on the Standard Node Components page, and attempt to use the Nanostations to connect up with Nodes in the surrounding area.
Then connect the Nanostations, Computer & Router to the switch, per the diagram on the right.
Congrats, now you have a working Meshnet Node.
Ad blocker interference detected!
Wikia is a free-to-use site that makes money from advertising. We have a modified experience for viewers using ad blockers

Wikia is not accessible if you've made further modifications. Remove the custom ad blocker rule(s) and the page will load as expected.